For both urban and rural poor in Madagascar, affordable medical treatment is limited or often nonexistent. From rural medical clinics, to prison hospital to urban medical centers, CRMF has funded supplies, training, and free treatment for those who need it most and their care providers.
Beginning with the expansion and updating of a rural dispensary and most recently with a medical mission trip focusing on pre and postpartum care, these initiatives allow us to partner with local care givers to understand the areas of greatest need, address the immediate need and where possible provide skills and supplies that will help the local people long after our medical teams have departed.
[service service_title="Maternal Mortality" service_icon="icon-profile-female"]
The rate of maternal mortality in Madagascar is 440 per hundred thousand live births compared to 24 in the United States.
[/service]
[service service_title="Infant Mortality" service_icon="icon-heart"]
The rate of infant mortality in Madagascar is 41 per thousand births compared to seven in the United States.
[/service]
This rural medical facility, operated by the Daughters of Wisdom, is the primary healthcare center for the rural poor of rural Toamasina. It serves primarily the native Betsimisaraka tribe. The Sisters care for more than 4500 people each year, diagnosing and treating malaria, infectious diarrhea, tuberculosis and leprosy. The facility faces many challenges:
[lists style='list-s1′]
[list_item] The 40 year old the cinder block center had only a few treatment rooms and one inpatient bed.[/list_item]
[list_item] People would walk up to fifty km to reach the center. Whole families often came together and camp in temporary shelters near the dispensary.[/list_item]
[list_item] For some tests, patients had go to Toamasina city.[/list_item]
[list_item] The majority of patients had little ability to pay for treatment.[/list_item]
[/lists]
CRMF funded improvements include:
[lists style='list-s1′]
[list_item]Construction of a modern laboratory facility so that some testing previously done in Toamasina can take place on site[/list_item]
[list_item]Construction of latrines for lepers[/list_item]
[list_item]Installation of a water line and septic system[/list_item]
[list_item]The purchase of new equipment including microscopes[/list_item]
[list_item]Building of a new laboratory for the dispensary[/list_item]
[list_item]Creation of a new patient treatment area[/list_item]
[/lists]
When CRMF sponsors free treatment clinics during the site visits the Antsiramandroso dispensary is one of the sites used.
The MotherBaby Initiative
For the poor women of Madagascar, prenatal care, childbirth attended by trained medical personnel and postpartum care are often nonexistent. Little aid is available for mothers, and their babies leading to tragic, and preventable, deaths.
CRMF worked with a U.S.based team to design a twofold program that would train Malagasy doctors and midwives to handle the postpartum crises that often take the lives of mothers and babies. It also gave them the equipment and medications they needed to implement that training.
The two week training program designed by Dr. Carol, an obstetrician with a private practice in Cincinnati, incorporated classroom lectures based on best practices in postpartum care; practice sessions with birthing simulators, suturing and resuscitation models; the introduction of new techniques; and sidebyside mentoring at the Ankirihiry Clinic.
Dr. Carol taught techniques that prevent postpartum hemorrhage such as active management of third stage labor. Using suturing models, doctors and midwives practiced proper repair of lacerations, another cause of postpartum hemorrhage.
The clinic also has a new data gathering system for tracking outcomes, and a protocol for ongoing communications between the doctors and midwives in Madagascar and the U.S. medical team.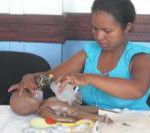 Doctors and midwives practiced newborn resuscitation with Laerdal's NeoNatalie, a newborn simulator.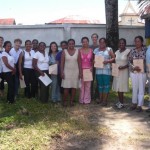 The midwives at the Ankirihiry Clinic in urban Toamasina. Last year, there were more than 1,300 births at the clinic.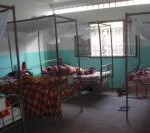 The new maternity beds at the clinic. Other upgrades included an ultrasound machine, Doppler, delivery tables and baby warmers, and the supplies and medications needed to respond to postpartum emergencies.